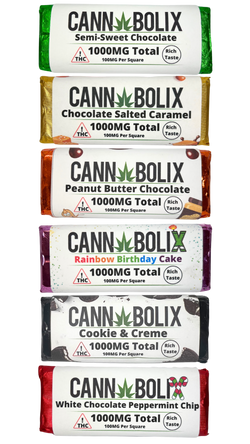 Cannabolix
Chocolate Lover Variety Pack
Introducing our Chocolate Lover Variety Pack – a delectable assortment that will transport your taste buds to a world of pure chocolate bliss. This indulgent collection brings together all of our most beloved flavors, carefully crafted to satisfy even the most discerning chocolate connoisseurs. Whether you're a fan of the classic semi-sweet chocolate or crave the intriguing combination of salted chocolate caramel, we've got something to delight every palate.
Semi-Sweet Chocolate: Dive into the timeless richness of our semi-sweet chocolate, where the perfect balance of sweetness and cocoa creates a harmonious chocolate experience that's both comforting and indulgent.
Salted Chocolate Caramel: Our salted chocolate caramel combines the deep, velvety notes of chocolate with the sweet allure of caramel, all sprinkled with a touch of sea salt for a tantalizing contrast of flavors.
Peanut Butter Chocolate: Experience the ultimate fusion of creamy peanut butter and silky chocolate, a match made in heaven that will leave your taste buds begging for more.
Cookies and Creme: Embark on a crunchy journey with our cookies and creme flavor, where the satisfying crunch of cookie pieces dances harmoniously with the creamy white chocolate.
White Chocolate Peppermint Chip: Celebrate the refreshing allure of peppermint paired with the luxurious sweetness of white chocolate, complete with delightful peppermint chips for an extra pop of flavor.
Birthday Rainbow Cake: Take a trip down memory lane with our birthday rainbow cake flavor, reminiscent of childhood celebrations, complete with swirls of colorful sprinkles and the enchanting taste of cake batter.
Each flavor in our Chocolate Lover Variety Pack is crafted with the finest ingredients, ensuring an unforgettable chocolate experience with every bite. These chocolates are perfect for gifting, sharing with loved ones, or indulging in your own moments of sweet delight. Treat yourself to a symphony of chocolate sensations, all conveniently packaged in one delightful assortment. Elevate your chocolate cravings and order our Chocolate Lover Variety Pack today – because life is sweeter with a little chocolate magic!