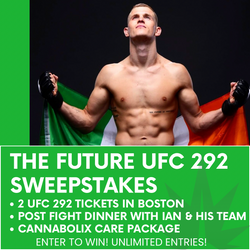 Cannabolix
THE FUTURE UFC 292 BOSTON SWEEPSTAKES
Do you want to experience The Future, lan Machado Garry, break his way into the Top 10 of the UFC Welterweight Division & add another number to his current undefeated 12-0 record!
This sweepstakes will include 2 tickets to UFC 292 in Boston, Massachusetts to see the fight live & watch history be made! Included in the package will be a special care package provided & hand picked by Team Cannabolix and invited to lan's personal victory meal post fight!
Enter to win, unlimited entries!
Sweepstakes Ends August 15th 2023!
*Airfare, Travel, Transportation, & Hotels Not Included.